Overview:



The Model number is a newly designed mobile signal repeater with intelligent functions, it's main purpose is the help the mobile operators to enhance the indoor cellular coverage. The repeater is using the industrial band selective solution with IF SAW filters, which could only boost the signal of the specific frequency of a operator, which reject the competitors'. Except the traditional MGC, AGC function, the repeater has also introduced many other function, such as the Input and Output Signal Strength indicators, Antenna isolation detection, UL sleep, Smart etc to make sure the repeater is working in linear status and will not affect the BTS.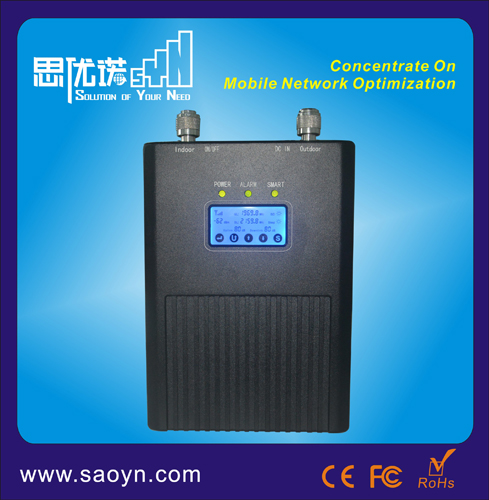 LCD Screen: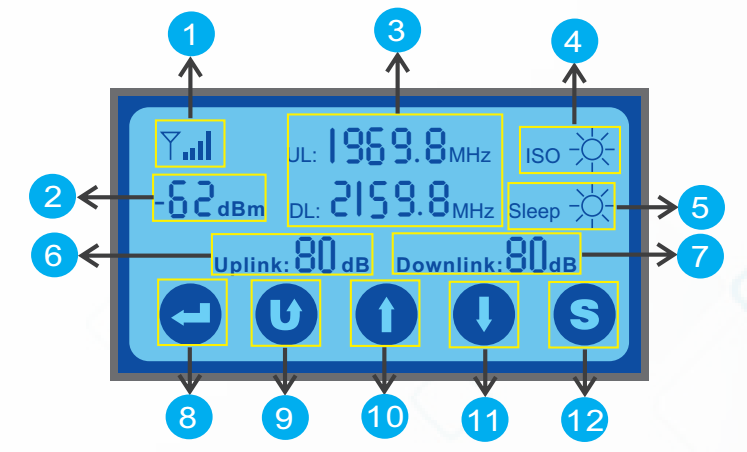 Feature:


1.
5 bars of the output signal strength indicator, which show
s
you the maximum output power of the repeater. Each signal bar represents 5dB.
2.
The specific value of the input signal strength measured in dBm, tell us the exact input signal level.
3.
Shows the UL&DL central frequency of the supporting system.
4.
Antenna Isolation Detection. When first power on the repeater, the repeater will detect the oscillation automatically between the outdoor antenna and indoor antenna.
5.
Uplink sleep Mode. The uplink of the repeater is in standby mode when there is no call or data transmission. It will activate immediately when a call a data session is initiated.
6.
Shows the UL
maximum gain
7.
Shows the DL maximum gain.
8.
Enter for selection or confirm the settings.
9.
Back to the previous page or cancel the settings.
10.
Increase the gain or upward adjusting the central frequency
11.
Decrease the gain or downward adjusting the central frequency
12.
Smart function that repeater could set the gain automatically to prevent the Alarm. Press this icon to turn ON or turn OFF this function.
Specification:


MGC (Step Attenuation

Via Touch Panel

)

≥

15dB, auto shut off after 15dB on Downlink

Orange @ ALC 1~5dB, Red @ ALC 15dB~20dB,

LED off after 5 seconds red

Mechanical Specifications

Input AC100~240V,output DC 12V / 3A

Antenna Isolation Detection, Uplink Sleep, Smart Function, Input and Output Signal Strength Indication